On the Friday before the 2016 SG Election, a friend of mine met Sabrina Philipp.
He asked if she had a second to talk about UF Student Government. Sabrina said she knew more about SG than he did - and that she used to run the majority (and incumbent) party.
By Sunday, we filmed and edited a video of Sabrina explaining the corruption within UF SG. It was the first time that someone from inside the majority SG party had spoken out and confirmed rumors of corruption, nepotism, and racism in such a public way.
I created and branded a campaign called #NotMySystem, posted the video, and gained thousands of page likes and over 100,000 views in 24 hours.
#NotMySystem received international media attention from The Independent in the UK, Cosmopolitan, Yahoo News, The Tab, Total Frat Move, Total Sorority Move, The Independent Florida Alligator, Alligator Army, Rise News, and more.
#NOTMYSYSTEM VIDEO
In around 48 hours, this video was conceived, filmed, edited, and posted on Facebook.
From a strategy perspective, I intentionally wanted the video to be over-dramatic and theatrical - while still providing fully accurate information about SG corruption. I knew that if it were a normal, informational video, it wouldn't grab the attention of UF students and the subject would quickly be buried or changed.
It needed to be presented in a way that got people talking. No matter if they thought it was inspiring, over-dramatic, pointless, or motivating - if people were talking about the video (and therefore talking about SG corruption) the video was a success.
CROWDSOURCED STORIES
The System has been running the show for decades, but the stories from people in UF SG are what make it shocking.
I asked for past or present UF students with personal experiences with the System to submit their stories; I designed graphics using a quote from each story and posted them on our Facebook page.
UNIVERSITY IMPACT
After the video exploded on UF's campus, UF administration reached out to Sabrina to meet regarding the allegations of corruption.
We met with UF President W. Kent Fuchs, giving him a comprehensive history of the System, letters from dozens of students, and our suggested action plans going forward.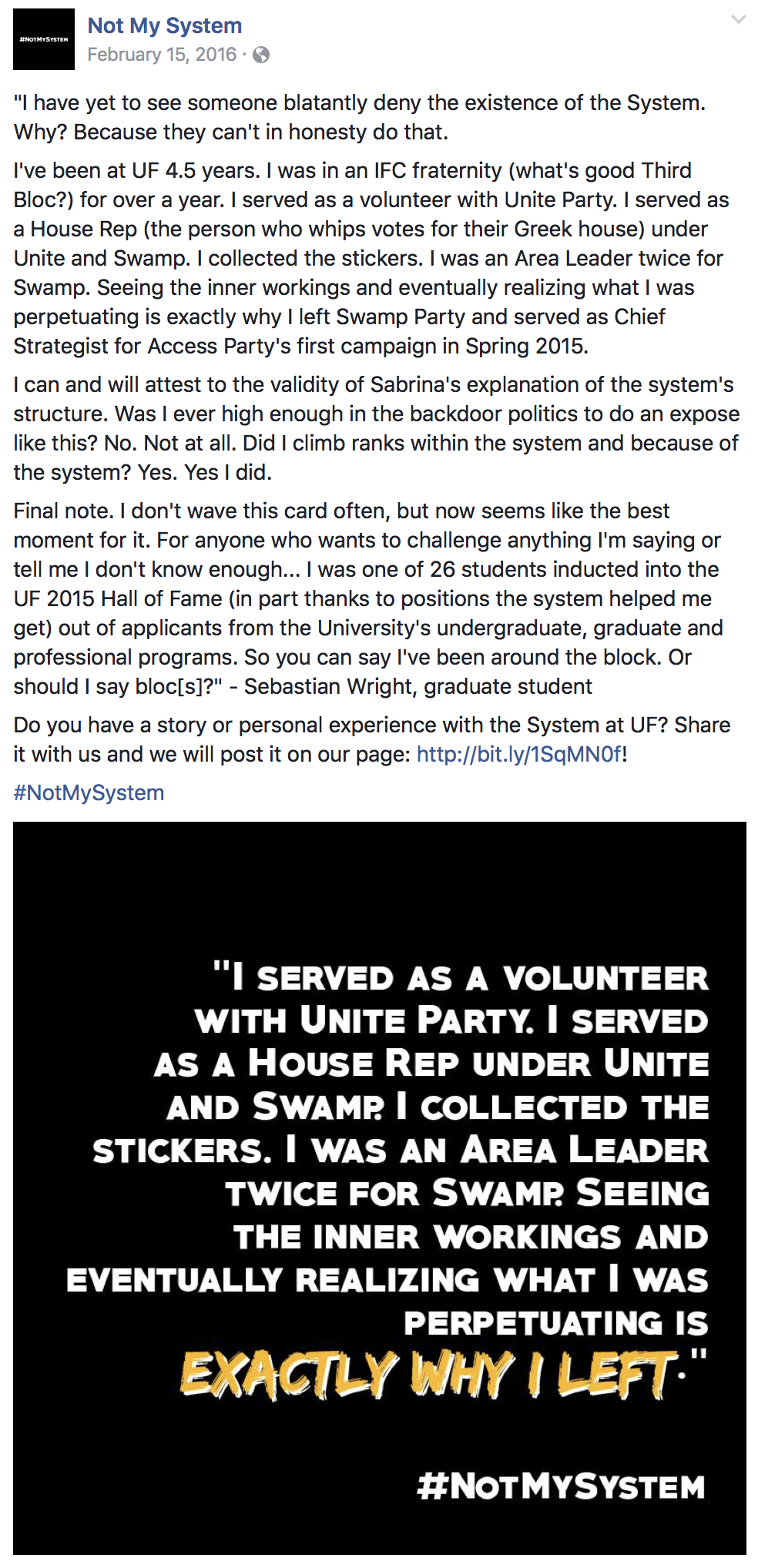 STATE IMPACT
Quickly after the campaign launched, we were flooded with emails, private messages, and posts.
People from schools across the country shared how it inspired them to create similar movements and expose the corruption within their own SG.