In Spring 2015, I did something crazy.
I helped create a brand new political party on campus - with no experience in my university's Student Government, no real idea how to run or market a political campaign, and no time. What I did have: knowledge that my school's SG had been controlled by a group of students for decades, hope for a group of people to challenge that, and the decision that I'd be one of them.
I had 30 days to build the Access brand from the ground up and inspire thousands of students to vote for it.
After analyzing the average votes earned by the opposition party over the years, we knew we needed a miracle to win: thousands of organic, hard-earned votes from people who didn't know Access Party existed 31 days before the election. I tackled this (seemingly) impossible goal through grassroots marketing and social media strategy, tailor-made for a college audience. As brand manager, I crafted the party's image from scratch through photos, videos, graphics, and social media content in a sleepless whirlwind of all-nighters and all-dayers.
We won.
(With the highest number of votes in UF SG history and the first minority party win since 2004!)
FACEBOOK HIGHLIGHTS
Social media was the game, giving Access Party a spunky (yet reliable) personality was the aim.
Our party was born and raised on social media, and I used a healthy combination of insights, intuition and on-the-fly learning to craft content and campaigns that generated buzz on campus.
INSTAGRAM/TWITTER HIGHLIGHTS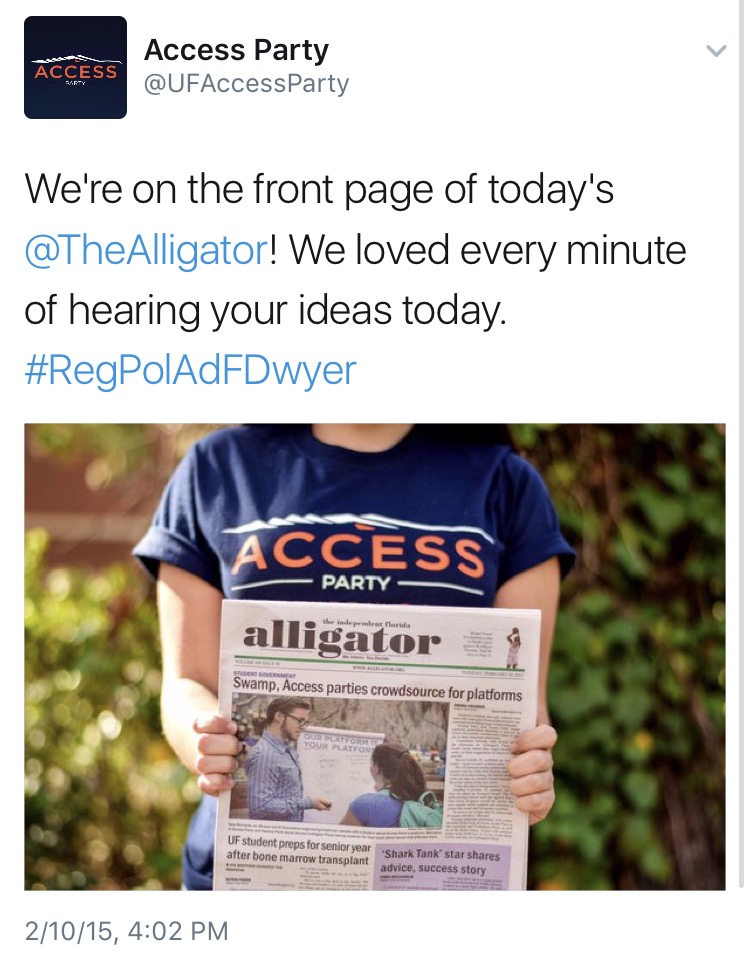 "I'M WITH ACCESS" CAMPAIGN
The problem: How do we generate organic hype about the party?
My solution: To create a social media campaign using crowdsourced photos of Access supporters.
We asked our supporters to email us their favorite picture along with a short message of why they're with Access. I added a graphic overlay to each photo, posted it (along with their message) to our social media channels, and sent it back to them to post on their personal pages. Hundreds of posts were generated using the #ImWithAccess hashtag.
"I STAND WITH ACCESS:" FLIPPED SENATORS CAMPAIGN
One night of the campaign, a group of 21 SG senators — from Swamp Party, Students Party and independents — came together to switch their party affiliation to Access Party.
This meant that, no matter the result of the election, Access Party would be represented in Senate. Our media team brought this to life by taking photos of each flipped Senator, adding a one-liner about why they switched, and creating a blanket caption template for each person to post as their Facebook profile picture. The campaign generated thousands of reactions across multiple platforms.
PROFILE PICTURE CAMPAIGN
To generate more buzz and support for each SG Senate candidate on social media, we took on-brand head shots for each of the 50 candidates. I created a formula for the photo caption in order to maximize impact and personalization while staying consistent with the party's brand.
GRAPHIC MATERIALS
I saw each day of the campaign as a chance to introduce someone to Access.
Deadlines were aggressive and the pressure to produce high quality, on-brand content was definitely on. I could not be prouder of our small media team for working constantly to coordinate photos, written content, and other multimedia to tell our story in person and online.